Building Blocks on Balmoral at Great West Life Winnipeg, MB
Building Blocks on Balmoral at Great-West Life comprises the adaptive re-use of the 110-year old Grade II listed Milner House and two new structures, which together provide 100 licensed childcare spots to Great-West Life employees and the West Broadway community.
In addition to upgrading and extending the useful life of a heritage structure, the new facility has achieved LEED Platinum certification with the integration of sustainable features that include: a geothermal ground source heat-pump with in-floor radiant heating and chilled beams for cooling; displacement ventilation that requires lower fan power than ducted systems; significant use of salvaged, refurbished and re-used materials; substantial water use reduction (a particular priority in the Prairies); abundant daylight and views and use of low-emitting materials.
In order to create a sense of "home" for children, the facility was deliberately divided into two smaller additions on either side of the existing Milner House: one for toddlers and infants and one for preschool aged children. Each addition has direct connection to accessible exterior play yards, designed with naturalized landscapes and an age-appropriate focus.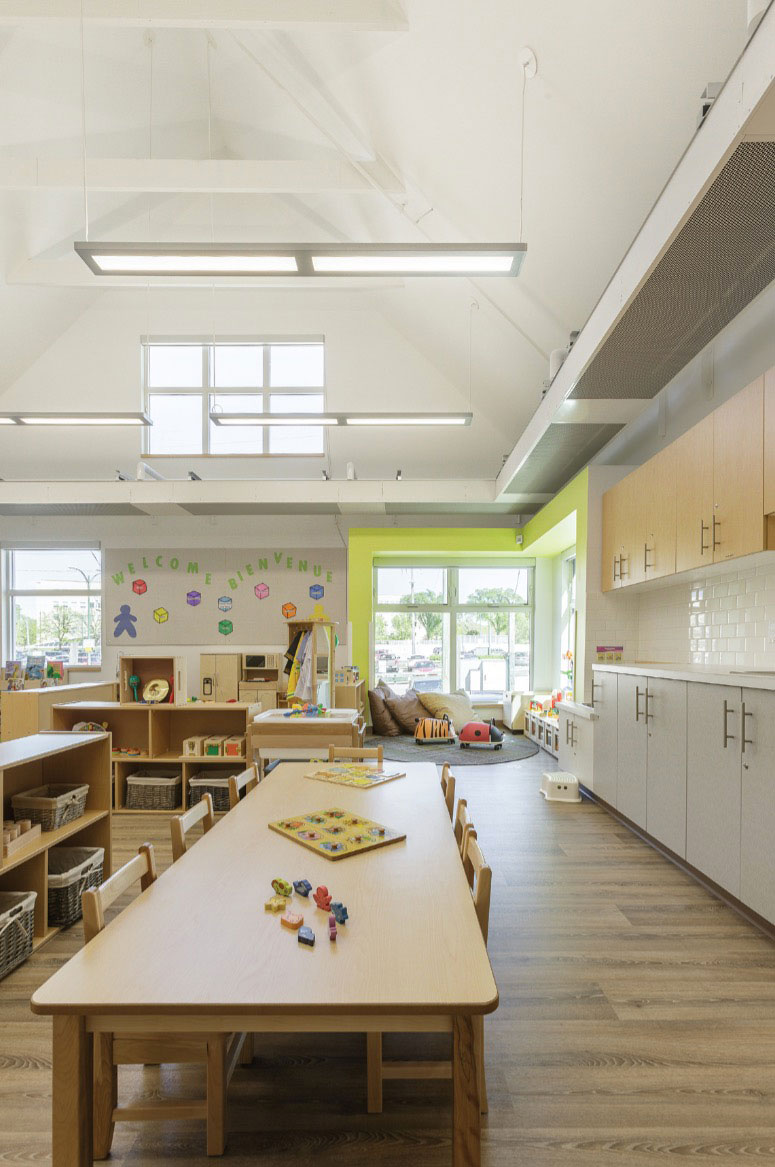 The need to replace the deteriorating foundation of the Milner House provided an opportunity to make the ground floor of the facility fully accessible.
In order to keep the entire main floor on one level without introducing ramps and stairs, the original structure was lowered approximately 610mm onto a new foundation, and the north end of the site was built up 1,220mm to provide an accessible outdoor play area for the children.
This also enabled the implementation of two site planning moves that facilitate on-site stormwater management: the elimination of an impervious lane connecting Balmoral Street to the Great- West Life parking lot; and the creation of a retention area for stormwater runoff at the north end of the site.
With a particular concern for indoor environmental quality, the project has been designed with 100% fresh air displacement ventilation. The system, which introduces low velocity fresh air at low level, was selected not only because of the significant energy savings it offered, but also because it was the most effective way to deliver fresh air close to the floor in spaces occupied by small children and crawling infants.
The design of Building Blocks also acknowledges that wellness does not just apply to physical health, it Embraces the social, emotional, environmental and intellectual wellbeing of occupants, which in this case, are mostly young children.
Therefore, a priority was placed on creating both direct and indirect connection to the outdoors: through daylit social spaces for staff with a view to the elm tree canopy; the creation of corner window nooks in each child care room that offer the children engaging views of daily activities ranging from garbage and recycling pick-up to mail delivery; and the Milner House porch, which provides a weather protected complement to the outdoor play spaces. The adaptive re-use of the Milner House has breathed new life into a locally signficant structure that had been vacant for 20 years. The new facility of which it forms part, now makes a significant contribution to the economic and social vitality of Winnipeg's West Broadway Neighbourhood.
PROJECT CREDITS
OWNER/DEVELOPER Great West Life Assurance Company
ARCHITECT Prairie Architects Inc.
GENERAL CONTRACTOR Manshield Construction
LANDSCAPE ARCHITECT Nadi Design & Development Inc.
CIVIL ENGINEER WSP
ELECTRICAL/ MECHANICAL ENGINEER KGS Group
STRUCTURAL ENGINEER Wolfrom Engineering Ltd.
COMMISSIONING AGENT Pinchin
ENERGY MODELLING Stantec
PHOTOS Lindsay Reid
PROJECT PERFORMANCE
Energy intensity (building and process energy) = 145.5KWhr/m2/year
Energy intensity reduction relative to reference building under MNECB 1997 = 56%
Water consumption from municipal sources = 2,993 litres/occupant/year
Reduction in water consumption relative to reference building under LEED = 50%
Recycled material content by value = 14%
Regional materials (800km radius) by value = 36%
Construction waste diverted from landfill = 89.5%