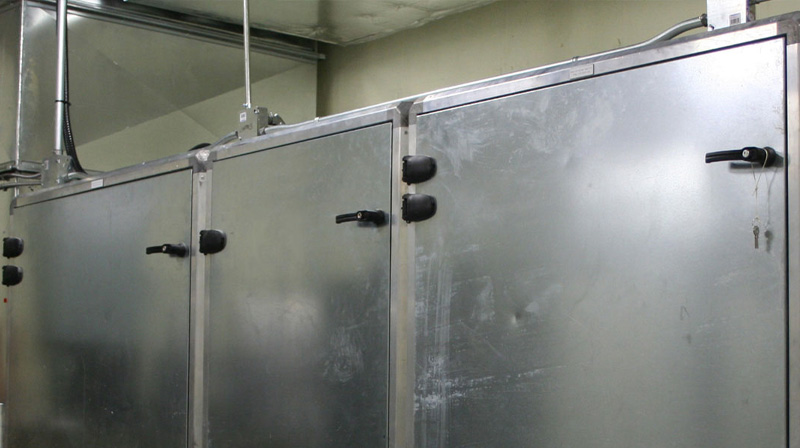 Northern Ontario, Canada
Red Lake is a remote gold mining community located in Northern Ontario, Canada. Given the extreme cold, and remote location, care needed to be taken to ensure efficient and reliable equipment was selected.
The building is a typical commercial style building, housing a local Ministry of Natural Resources detachment, along with other miscellaneous provincial government services. The building mainly comprised of office space, with a large locker/shower room, and several washrooms.
Washroom Exhaust
A Tempeff RG 7200 DualCore® unit was selected to deliver ventilation air to the building. The main exhaust for this energy recovery device was from the washrooms and the locker/shower room. During occupied mode the DualCore® unit operates on low speed, supplying the minimum ventilation air to the washrooms and locker/shower room.
Variable frequency drives operate the supply and exhaust motors. CO2 sensors were mounted in all other zones, and as CO2 levels rose during high occupancy periods, local dampers opened, and the VFD's increased fan speed thereby delivering increased ventilation air to the spaces that needed to have CO2 levels reduced. Once the CO2 sensors are satisfied the dampers close and the VFD's return to low speed.
This sequence allowed the building to use minimum ventilation rates to keep the washrooms and locker/shower room comfortable, but offered flexible ventilation rates to other spaces to keep those areas comfortable as well. This on demand configuration allowed energy use for ventilation air to be kept at a minimum.
90% Temperature Efficiency
Further reducing the energy use, the Tempeff DualCore® unit offers the highest energy recovery available. The DualCore® unit delivers over 90% temperature efficiency at low speed, thus energy used to temper the incoming outdoor air is minimal. This high performance was achieved at very low outdoor temperatures, when testing started the outdoor air temperature was -0.4F (-18C). The exhaust air temperature returning to the DualCore® unit was approximately 67F (19.4 C).
Supply temperature during the testing period ranged from 58 (14.4C) to 62F (16.7 C), varying with the outdoor air temperature. Air from the DualCore® unit was delivered to local fan coils, which then raised the temperature to desired space conditions. The local fan coils used heat pumps to provide heating.
As a result of these innovative designs, plus many more sustainable design considerations in the building, the owner is currently seeking LEED (Leadership in Energy and Environmental Design) Silver designation.